Blurb
Quali sono i videogiochi made in Italy? E che immagine restituiscono dell'Italia? Il videogame nel Belpaese esprime caratteri di cultura nazionale tanto nelle produzioni nostrane quanto nell'adattamento e nella ricezione culturale dei prodotti esteri. I contributi di questa raccolta, firmati da ricercatori italiani e internazionali, trattano della fruizione e della produzione italiana di questi prodotti, della rappresentazione del nostro paese, delle relazioni tra giochi, fumetti, cinema, sport e brand nazionali, delle comunità di giocatrici, critici e studiose e del crescente riconoscimento istituzionale del medium come veicolo per la promozione del patrimonio storico-culturale.

Editors and Contributors
A CURA DI
MARCO BENOÎT CARBONE & RICCARDO FASSONE

PREFAZIONE
PEPPINO ORTOLEVA
CONTRIBUTI
FELICE ADDEO, GIANLUCA BALLA, MATTIA BARRA, MATTEO BITTANTI, MARCO BENOÎT CARBONE, MICHAEL CASTRONUOVO, FELICE DI GIUSEPPE, RICCARDO FASSONE, DALILA FORNI, ENRICO GANDOLFI, IVAN GIRINA, FEDERICO GIORDANO,ANDREA PACHETTI, PAOLO RUFFINO, SIMONE TOSONI, MATTEO TARANTINO, FRANCESCO TONIOLO.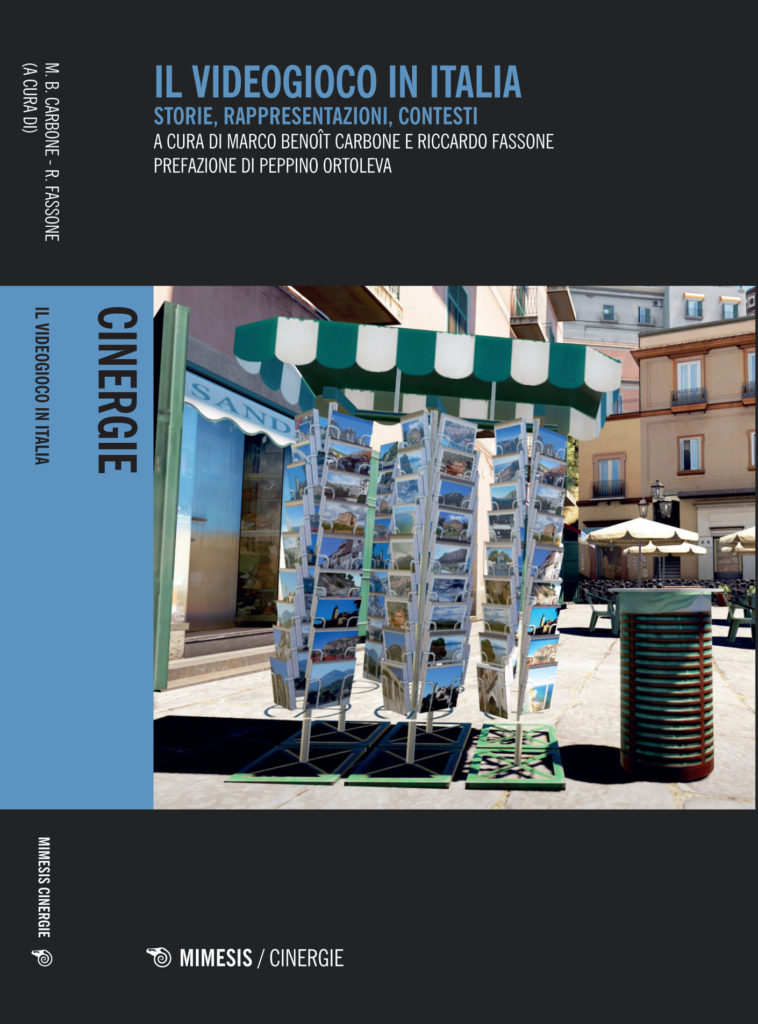 Presentations
2020 – Italy in Games/Games in Italy. Images of the Nation and the Rise of a National Industry –  Marco Benoît Carbone (Brunel University London) & Riccardo Fassone (Università di Torino), «Mediating Italy in Global Culture Summer School. III Online Edition», Alma Mater Studiorum Università di Bologna. More info.
Excerpts and Materials
Questa raccolta è al momento in stampa.
Puoi restare in contatto per aggiornamenti.