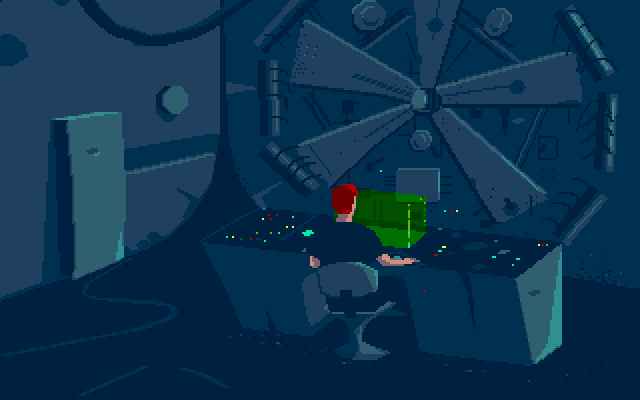 Another World (1991) è forse tra i cinematic platformer più noti, efficaci e di successo. In questi prodotti (cfr. anche Prince of Persia, 1989, e Flashback, 1992), una componente action incontra elementi cinematografico-narrativi. Another World è anche spesso evocato (Blanchet 2015; Montagnon/Blanchet 2019) come esponente del 'French Touch'. È questa l'idea di un videogioco 'di qualità', legato alla complessità dell'esperienza di gioco e al suo ri ettere un carattere nazionale. In questo articolo, snodo sintetico di una ricerca più ampia e in corso, Another World funge da spunto per alcune annotazioni sul rapporto tra gioco e cinema, sui modelli autoriali che lo legano ai canoni letterari, e sul suo statuto estetico e artistico.
[…] la Francia alla fine degli anni Ottanta diventa protagonista della produzione in Europa, in particolare su piattaforme Commodore e Amstrad, che godono di grande diffusione. Dal 1983 in poi, aziende come Info- grames, Loriciel, ƎRE Informatique, Microids, e France Image Logiciel (FIL) iniziano a produrre adattamenti da testi francofoni, come Les passagers du vent (1986, tratto dal fumetto di François Bourgeon) e Les Ripoux (da un fumetto di Claude Zidi). In questo contesto, Chahi inizia a programmare per Amstrad con adattamenti di opere letterarie come il Viaggio al centro della terra di Jules Verne. Chahi incontra poi Paul de Senneville, produttore che dirige la parigina Delphine Software. Per Cuisset, Chahi cura la grafica di Future Wars, una avventura fantascientifica.
Chahi passa poi al progetto personale di Another World, occupandosi di ogni aspetto. Il designer realizza ambientazioni e personaggi tramite vettori di calcolo, che riducono l'utilizzo della memoria dei supporti dell'epoca rispetto a una animazione frame-by-frame. Per le animazioni si serve ampiamente del rotoscoping, una tecnica di cattura del movimento dei corpi attraverso il mezzo della ripresa cinematografica; il lavoro di Chahi è relativamente pionieristico: prima di lui, forse solo Jordan Mechner aveva realizzato con questo procedimento Prince of Persia.

Questo articolo è stato pubblicato e continua su Segnocinema (227, gennaio-febbraio 2021, pp. 60-61).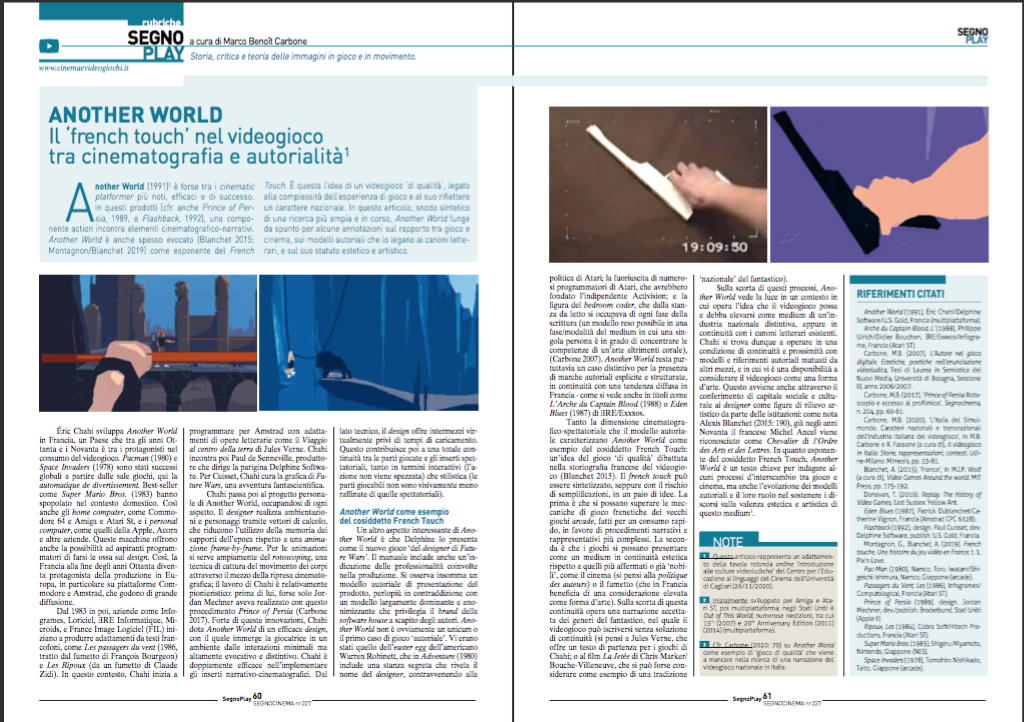 Altri materiali
L'articolo è tratto da un intervento presentato nel corso della tavola rotonda online 'Introduzione alle culture videoludiche' del Centro per l'Educazione ai linguaggi del Cinema dell'Università di Cagliari (26/11/2020), disponibile online.
Riferimenti
Another World (1991), Éric Chahi/Delphine Software/U.S. Gold, Francia (multipiattaforma).Arche du Captain Blood, L' (1988), Philippe Ulrich/Didier Bouchon, RE/Exxxos/Infograme, Francia (Atari ST).
Blanchet, A. (2015), 'France', in M.J.P. Wolf (a cura di), Video Games Around the world. MIT Press, pp. 175-192.
Carbone, M.B. (2017), 'Prince of Persia: Rotoscopio e accesso al profilmico', Segnocinema,n. 204, pp. 60-61.
Carbone, M.B. (2020), 'L'Italia del Simulmondo. Caratteri nazionali e transnazionali dell'industria Italiana del videogioco', in M.B. Carbone e R. Fassone (a cura di), Il videogioco in Italia. Storie, rappresentazioni, contesti, Udine-Milano: Mimesis, pp. 53-81.
Donovan, T. (2010). Replay: The History of Video Games, East Sussex: Yellow Ant.
Flashback (1992), design. Paul Cuisset, dev. Delphine Software, publish. U.S. Gold, Francia. Montagnon, G., Blanchet, A. (2019). French touche. Une histoire du jeu vidéo en France. t. 1, Pix'n Love.

Prince of Persia (1989), design. Jordan Mechner, dev./publish. Broderbund, Stati Uniti (Apple II)
Ripoux, Les (1984), Cobra Soft/Hitech Productions, Francia (Atari ST).